Vettes at the Beach
Sep 19, 2021
Hosted by: For Corvettes Only, Inc.
Click on image below to view full size, print or download.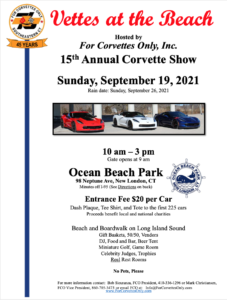 When:
Sunday, September 19, 2021
10:00 AM – 3:00 PM
Gate opens at 9:00 AM
Rain Date:
Sunday, September 26, 2021
Where:
Ocean Beach Park
98 Neptune Avenue
New London CT
Google Map Directions
Entrance Fee:
$20 per car
Dash Plaque, T-Shirt and Tote to the first 225 cars.
Proceeds benefit local and national charities.
Activities include:
Beach and Boardwalk on Long Island Sound
Gift Baskets, 50/50, Vendors
DJ, Food and Bar, Beer Tent
Miniature Golf, Game Room
Celebrity Judges, Trophies
Real Rest Rooms
No pets, please.
For more information contact:
Bob Sicuranza, FCO President – (410) 336-1296
or
Mark Christiansen, FCO Vice President – (860) 705-3473
or
email FCO at info@ForCorvettesOnly.com
Link: www.ForCorvettesOnly.com