Club Corvette of Connecticut had an unusual birth. At Eastern Connecticut Corvette Club's 1992 Christmas party, members were surprised by the news that their club was being dissolved. This prompted a few ECCC members to get together to discuss forming a new club. The next month, eight members met and Club Corvette of Connecticut was born.
During the first Club Corvette of Connecticut meeting, officers were selected, policies were hammered out, and the basic organization was established. The following month, the search for new members was prioritized, a newsletter was printed, and an events schedule was developed.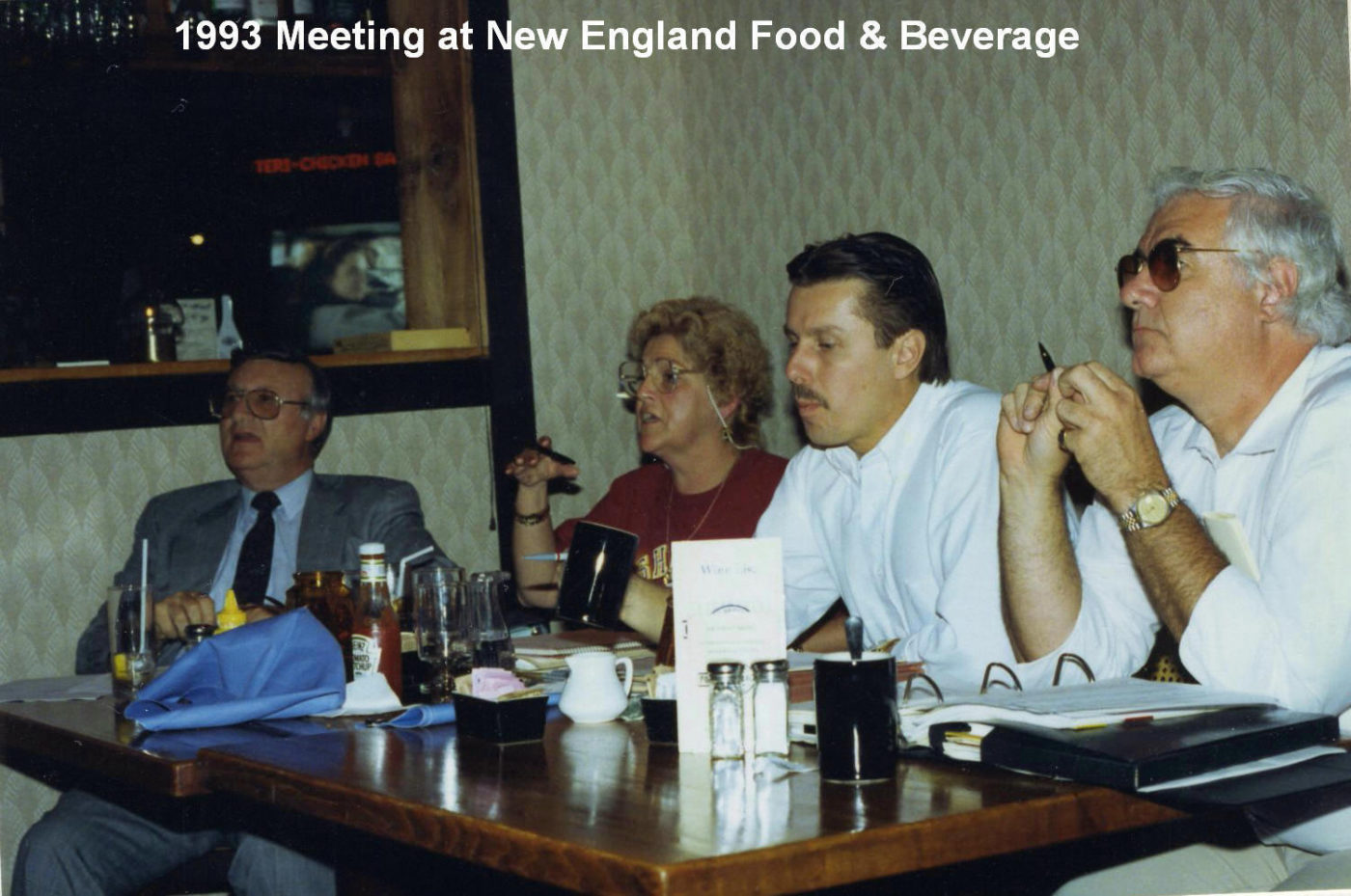 In the early months, as the club was being molded into shape, club officers signed on two sponsors: Ron's Corvettes and Classics, Inc. and Mannix Chevrolet-Pontiac-Geo. Plus, the Eastern Connecticut Corvette Club showed its support by donating the remains of their club's treasury to Club Corvette of Connecticut's coffers. With this backing, the new club was able to develop a schedule of events for the summer and fall seasons, and plan its first annual "All-Corvette Show and Swap Meet". The Show was held on July 11, 1993, at Moroso Performance Products in Guilford. The club's tradition of supporting local charities was established early on: donations of food for the Food Bank were collected at the car show, starting an association with the Food Bank that has endured over the years.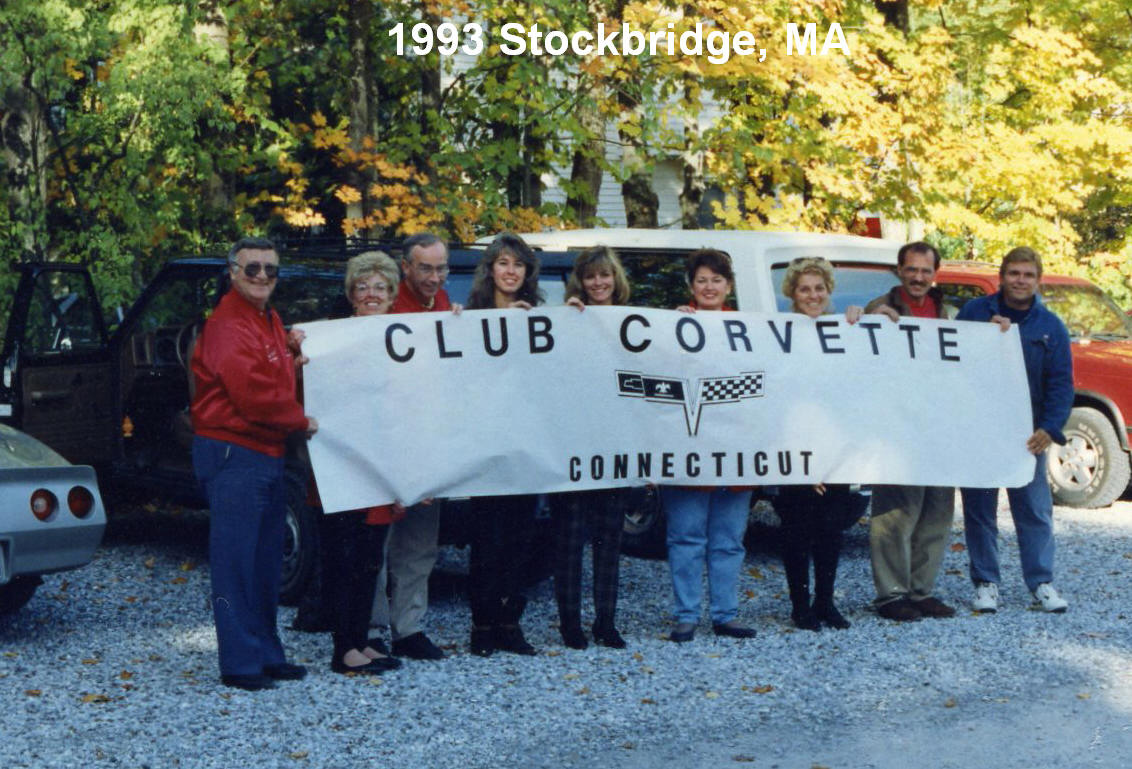 During the 1990's, the club grew exponentially. With Mannix as a club sponsor, the second Annual Car Show moved to their Guilford dealership. Newsletters grew and their topics expanded, ultimately becoming the "Vette Gazette". A number of club events were added each year, including trips to Cooperstown, New York's Corvette Hall of Fame, caravans to Corvettes at Carlisle in Pennsylvania, and annual Christmas parties at Woodwinds (Branford), Villa Capri (Wallingford) and Amarante's (New Haven). Annual cruises to the National Corvette Museum in Bowling Green, Kentucky, were also conducted, with the club purchasing a brick in the Museum's Walk of Fame.
Early on, Club Corvette of Connecticut formed a close relationship with Club Corvette of Rhode Island. The Rhode Island club frequently won the trophy for Best Club Participation in our annual shows and we attend and support their annual Corvettes by the Sea show. Our club has also attended several events which have been sponsored by their club, including Newport (RI) weekends.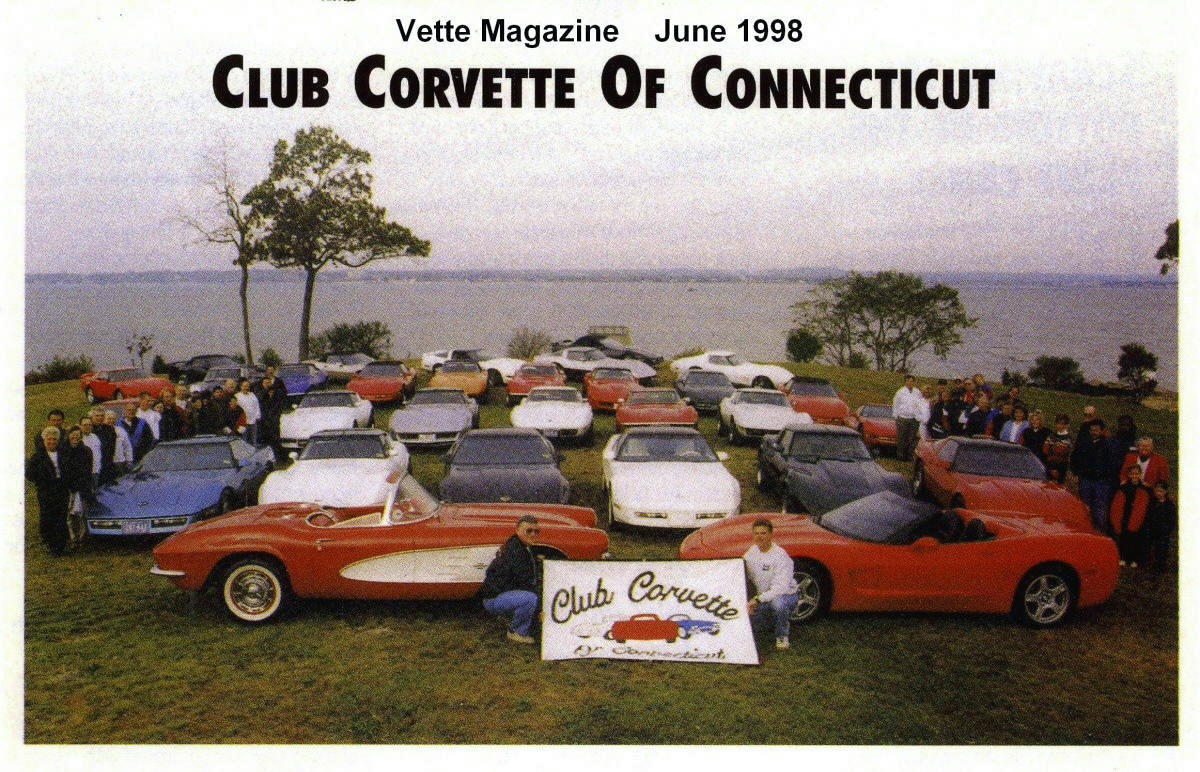 By 1997, the club's annual Car Show had outgrown Mannix Chevrolet's parking lot and was moved to Echlin Inc's Branford facility. Several new members signed up at the show. By 1999, 138 judged Corvettes were in attendance with nearly 1100 spectators.
The Korvettes for Kids toy drive became a staple in the club's annual schedule, starting in 1999. With a State Police escort, our members use their Corvettes to deliver the goodies to Bridgeport's Troop G State Police Headquarters.
As the new millennium began, the club continued to grow. The event schedule expanded, prompting club officers to attend the annual New England Corvette Council meeting in order to discuss how to avoid scheduling conflicts for club shows and events. Club Corvette of Connecticut's annual Car Show was moved back to Moroso Performance Products in Guilford where 189 Corvettes were judged. By 2002, this number grew to 207 Corvettes. We continued the annual caravan to Corvettes at Carlisle and the annual Ocean City (MD) weekend was added to our schedule. Some of the other club events included trips to West Point, to New York City's International Auto Show, to the Carousel Museum in Bristol, and to Atlantic City's Convention Center for its annual collector car show and auction. Annual Spring Cruises and Fall Foliage Cruises were also conducted.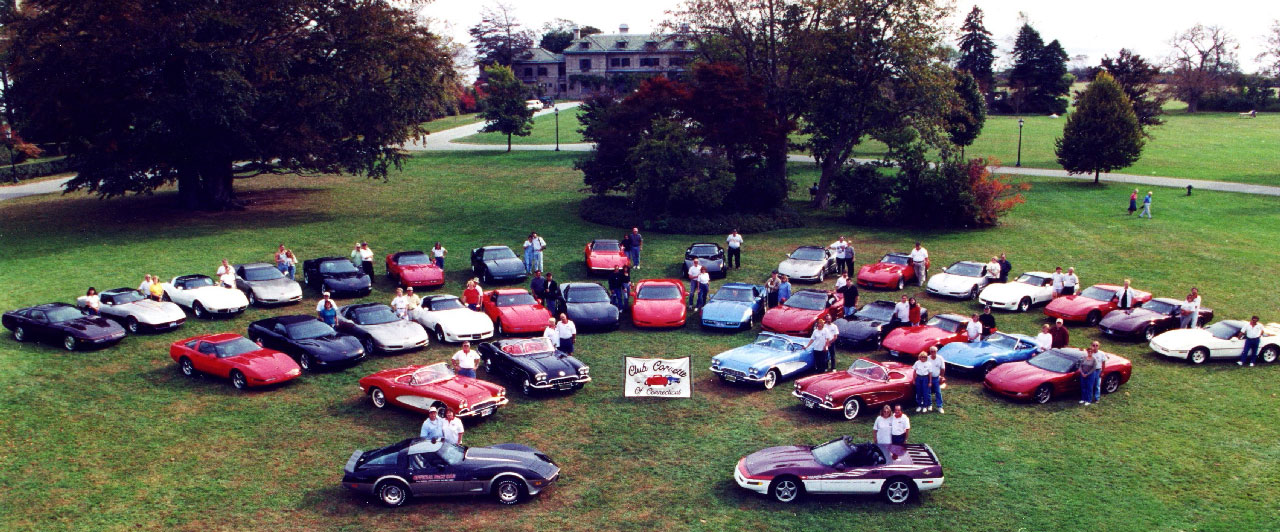 East Haven's and Fairfield's Memorial Day parades were added to the club's event schedule. "Vets to Vettes" was born, providing rides to veterans to town greens to attend the parades. Later this decade, the club also began participating in Madison's July 4th parade.
The club's schedule was packed with entertaining cruises. Our members drove to Aero Diner in North Windham (CT), Battleship Cove in Fall River (MA), Heritage Trail Vineyard in Lisbon (CT), J&M Motorsports in Mansfield (CT), and Orange County Choppers in Newburgh (NY). Cruises to local automotive product manufacturers were also planned. NU-Chrome in Fall River (MA), Callaway Cars in Old Lyme (CT), Marsh Racing in Old Lyme (CT), Total Performance in Wallingford (CT), 2nd Generation in Walpole (MA) and American Dry Stripping in Milford (CT) were some of the destinations for our club caravans.
In 2006, McDermott Auto Group became a club sponsor, forming an alliance that has endured until today.
A highlight illustrating the club's commitment to charities was the 2007 cruise to the Hole-In-The-Wall-Gang Camp in Ashford (CT). Thirty-one Corvettes formed a circle in the middle of the Camp. The children had not been told that we were coming. When they came out of the dining room and saw the Corvettes, their reaction was overwhelming. The club members allowed the kids to get into their cars, blow the horns, turn on the lights, and do practically anything they wanted, unquestionably showing their support.
In 2009, Club Corvette of Connecticut participated in the National Caravan to the 15th Anniversary of the National Corvette Museum. Clubs from all over the US converged on the Bowling Green (KY) facility. Our club met up with the rest of the New England clubs at the Danbury Mall and drove down to the NCM en masse.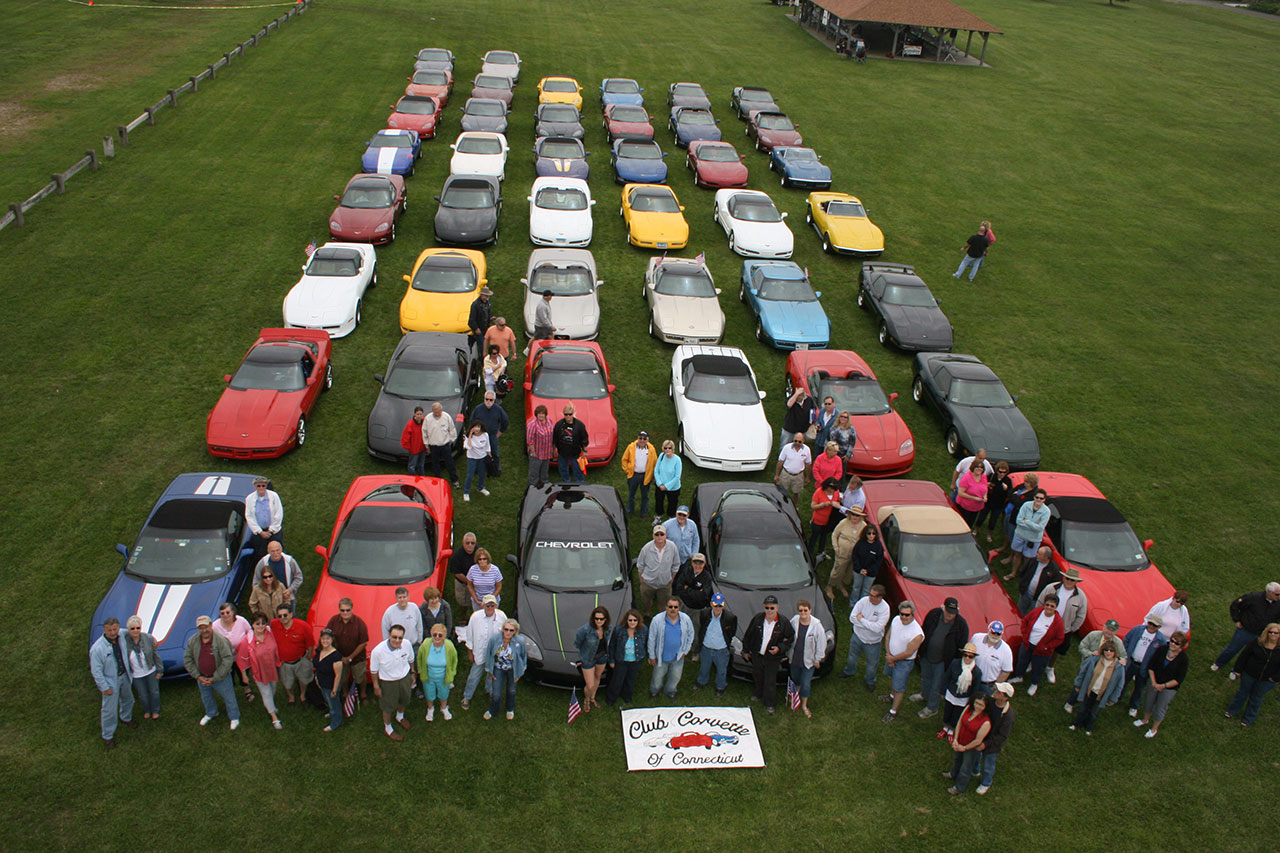 During the 2010's, club officers redoubled their efforts to schedule and conduct interesting, entertaining events. Continuing to improve the club's Annual Car show, the monthly meetings, club dinners and regular weekly cruises became a top priority.
The event schedule included a 2010 cruise to five Springfield Massachusetts museums, a Hudson River boat cruise, a 2011 trip to the Hot Air Balloon festival at the University of Rhode Island and the Spring Kick Off Picnic at Hammonasset State Park. We also attended Lake George's 20th annual Adirondack Corvette Show, Ocean City's (MD) show weekend, an Essex Steam Train cruise, a get-together at Johnson Lanes in Hamden for Duck Pin Bowling, and a trip to the San Gennaro Festival in New York City's Little Italy.
We continued to support Club Corvette of Rhode Island with a contingent of our members cruising to their 41st annual Corvettes by the Sea Show. Thirty-two club members gathered for the Welcome Home Vietnam Veterans in Shelton, Connecticut. In 2013, a cruise to Sturbridge Village (MA) was conducted in conjunction with NCRS (National Corvette Restorers Association). We also cruised to Heritage Museum and Gardens in Sandwich (MA) where we visited nearly 100 acres of wonderfully maintained gardens and viewed a unique collection of concept cars. In 2013, Club Corvette of Connecticut's 20th Anniversary was commemorated at Mount Washington's New Hampshire resort.

Currently, McDermott Auto Group, Moroso Performance Products, Town Fair Tire and Callaway Cars Inc. are our club sponsors. The club's monthly members' meeting outgrew Allegra's Cafe, Local Kitchen and Beer Bar, and Donovan's Reef Restaurant. It is currently held at the Parthenon Diner in Branford. Guest speakers have included Ian Prout of SCDA (Sports Car Driving Association) and noted road racer Eric Curran.
Club Corvette of Connecticut will continue to support veterans' organizations, local charities and community events, while providing a means of enhancing the Corvette ownership experience for its members. We're looking forward to making more memories.
| | |
| --- | --- |
| Club Corvette of Connecticut's Presidents | |
| Karen LeFevre | 1993, 6 Months |
| Anna Marie Goldberg | 1993 – 1996 |
| Ron Goldberg | 1997 – 2006 |
| Jack Stacey | 2007 – 2009 |
| George Macary | 2010 – 2011 |
| Dennis Krajewski | 2012 – 2016 |
| Jack Stacey | 2017 – 2019 |
| Rick Wasserback | 2019 – |