Helpful Hints From Kurt Ryder
Be cool this summer with your C5.
Would you like to better understand how you can keep your C5 running cool during the 2022 driving season and thereafter? Well, maybe the information I am about to give may be of interest. This also applies to C4 owners in that both cars are known as "ground feeders", meaning the air to cool the radiator/AC condenser comes off the ground/pavement up into the units to cool them. This, of course, picks up debris from the ground and may clog your radiator or AC condenser.
I own a 2004 C5 coupe. This car has the LS1 engine and 2004 is the last year of C5 production, so it has the best technology available at the time. Also, many of the bugs that caused problems for the C5 generation have been worked out. However, basic maintenance is always in order and may save you a headache or two on your next cruise.
As you well know, your engine's radiator is a major component of your cooling system. In front of your engine radiator is your AC condenser which looks like a radiator. If you are able to look under the front of your C5 and look up, you will probably see the AC condenser and debris, such as leaves small twigs and seed pods. Refer to Pic 1.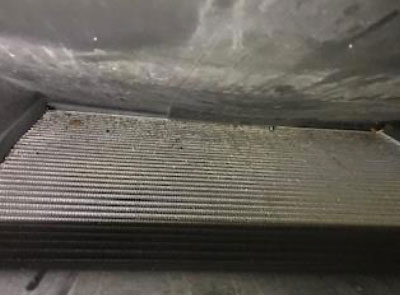 Pic 1
Unfortunately, I have already cleaned the debris from my AC condenser but, if you have never cleaned this area, you should have some leaves, etc. to clean off. You can use compressed air to clean the area but, of course, be careful to avoid nicking any part of your condenser. You could also use a hose and nozzle to rinse out the area. This is the easy part. You're not done yet.
To get to the area between the engine radiator and the AC condenser, you will need to remove the air intake duct from the throttle body. See Pic 2.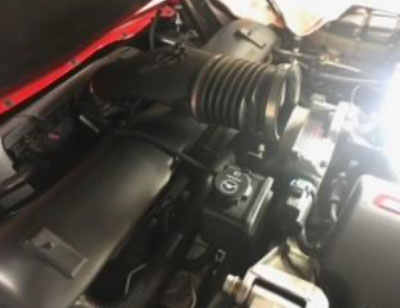 Pic 2
You then need to remove the long black shroud under the air intake duct. See Pic 3.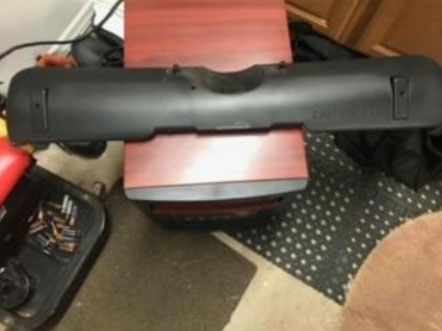 Pic 3
That will reveal the area between the engine radiator and the AC condenser. See Pic 4.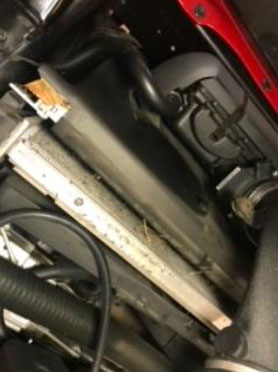 Pic 4
As you can see, mine has debris which seems mainly to be pine needles and some small leaves.
For those of you who are hesitant to remove parts from your Corvette, I will refer you to a YouTube video that makes it look pretty easy – How to Clean Out C5/C6 radiator, by My Corvette Life:
https://www.youtube.com/watch?v=J02kTZblkMA
If this is not something you are comfortable doing, maybe you have a friend that is good with mechanics and you can do it together. Good luck. Give me a call if you run into some problems and I can recommend a good beer: Kurt Ryder, hobosvet@gmail.com or (860) 302-3958. Send me an email first with your phone number so I recognize your number when you call.
---
Helpful Hints From Bob Wadyka
Here are some links to interesting YouTube videos about C5 Corvettes. Just some nice basic stuff to know.
https://youtu.be/9lkEU45kPNc How to change oil.
https://youtu.be/dQWcZyMuFkc Replacing parking light and side marker bulbs.
---
Helpful Hints From Roy Master
Thanks to Bob Wadyka for reminding me to write this helpful hint for C4's. The left turn signal quit working on my '87 Vette last week so I figured a bulb was burned out.
I started with the left-rear bulbs with the following process:
• Removed the license plate.
• Removed the left back-up light.
• Reached in through the license plate frame with a small ratchet to remove the two screws holding the right taillight assembly. (Of course, there are two lights on the left – it's a Corvette.)
TIPS:
• If you do this procedure, tie a string around the wrench because you will likely drop the wrench behind the bumper.
• Have band-aids ready because the space is very tight and there are rough edges.
• After removing the right taillight assembly, you can go through that hole to remove the bulb in the left taillight assembly.
Hey, I did it! I replaced both bulbs. However, @#$%$#@, the turn signals still didn't work. Okay, now I had to replace the left-front bulb. This looked easy until I found that the bulb socket was stuck from age and there was only a very small space to get my fingers in. I don't remember ever replacing the front bulbs in the 20+ years that I owned the car.
I removed the horn and then I managed to get my fingers in to remove the bulb socket. Hurray, the turn signals worked!
TIP:
After replacing the rear bulbs, I read that I could have turned on the emergency flashers to find out which bulb was burned out. Evidently, the bulbs work independently when using the emergency flashers.